Applications are invited for the following posts in the Finance Department Sindh jobs 2021. The required qualification and Experience are shown against each post. Finance Department Sindh Jobs 2021 Application Form Test Date & Interview Date check Download online here. Finance Department Sindh needs application of the eligible candidate of Sindh for the following post as per prescribed qualification. Both male and female candidates can apply for due dates. Finance Department Sindh is looking for eligible well-educated and competent aspirant for the various jobs such as;
Chief Information officers,
Software Engineer,
Web Developer,
Data Analyst,
Junior Specialist.
These are current vacant situation which needs to Finance Department Sindh to avail this opportunity they are eligible to submit their application form against vacant posts. Finance Department Sindh jobs 2021 application form test dates, interview dates download online here. After the Finance Department Sindh jobs 2021 test we provide a result on this page online so from this given link you can download the Finance Department Sindh application form roll no slip and test date over here.
Finance Department Sindh Jobs 2021 Application Form & Interview Date
Department:
Finance Department Sindh
Last Date to Apply:

11th March 2021

Education Required:
Master, Bachelor
Application Form:

Click Here

(

Available)

Interview call Later:
Click Here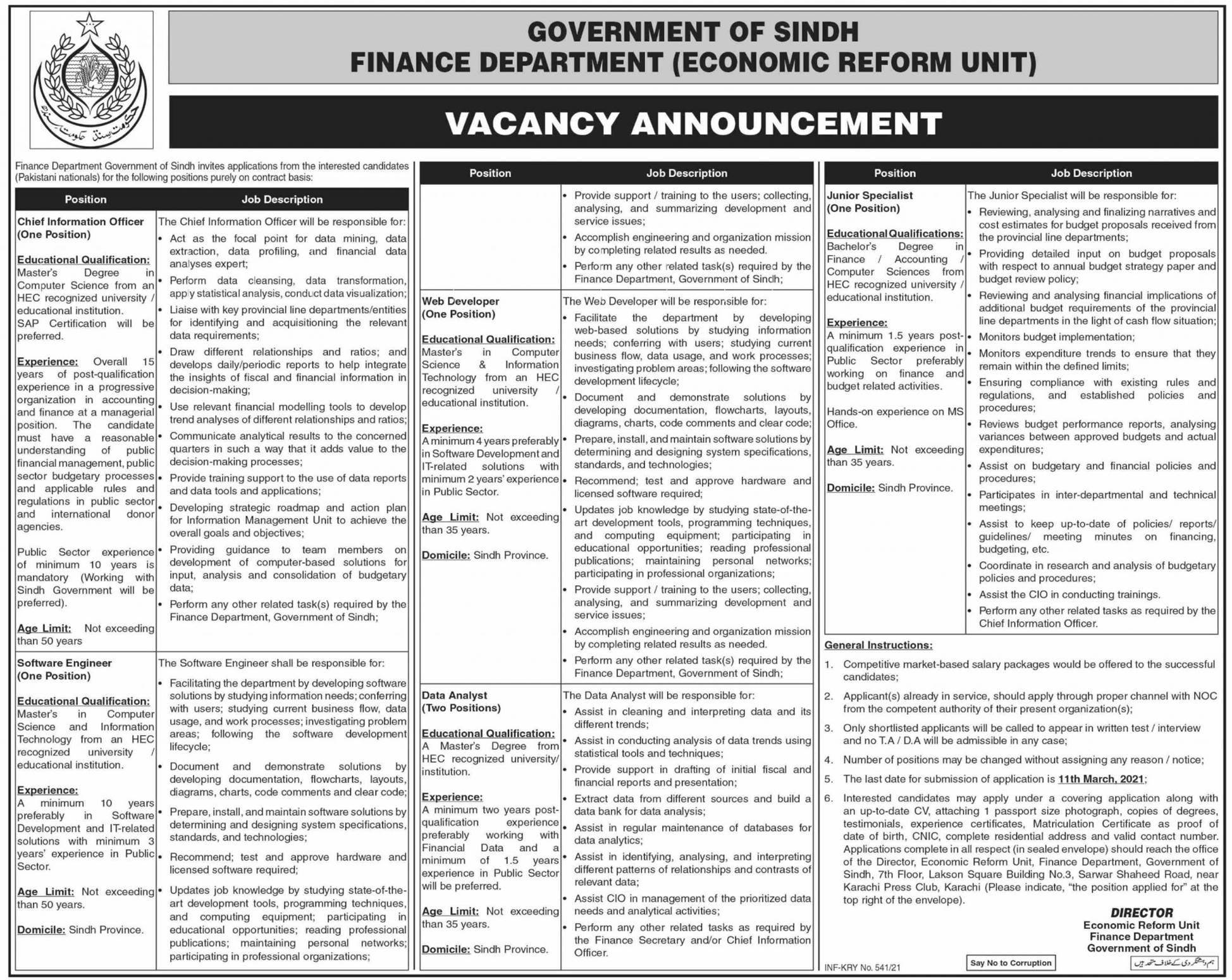 Terms & Conditions:
Five years of a general relaxation of age will be admissible as per existing government rules.
An advance copy of the application will not be entertained.
Govt servants must apply through proper channels and would be required to produce NOC at the time of interview.
On select Govt Servant will have to resign from service.
Eligibility of application for more than one post by submitting a separate form for each post.
Only shortlisted applicants will be called for a test.
Incomplete applications as well as received after the due date shall not be entertained.